About Us
Thanks for visiting the about us page.
We sell a large range of cues and other sporting goods with many new products being added regularly. Linking Snooker & Pool products together was a natural extension of our business model, as it is what we all have in our Lounge Rooms, Game rooms or in the Clubs we visit.
Sharp Global Enterprises also has another site under www.worldcuesports.com.au and others coming soon in other retail areas.
I have Played Competitive Snooker and Pool in Australia, New Zealand and the USA. It is through my personal experience with the game that I sought our products myself before and learned how hard it was to understand how to get quality products.
I researched for years before starting up our own business.  It started gradually and I am proud to say that it is an Aussie Grown Business & 100% Australian Owned & Managed.
We only offer quality products.  We want to be around for a long time and feel that it's better to sell quality instead of quantity. So anything we sell we first use to make sure it is up to our standards.
This is how good Walter Lindrum  thought Peradon cues where. Walter Lindrum
Please if you have any questions contact us.

Regards
The Sharp Family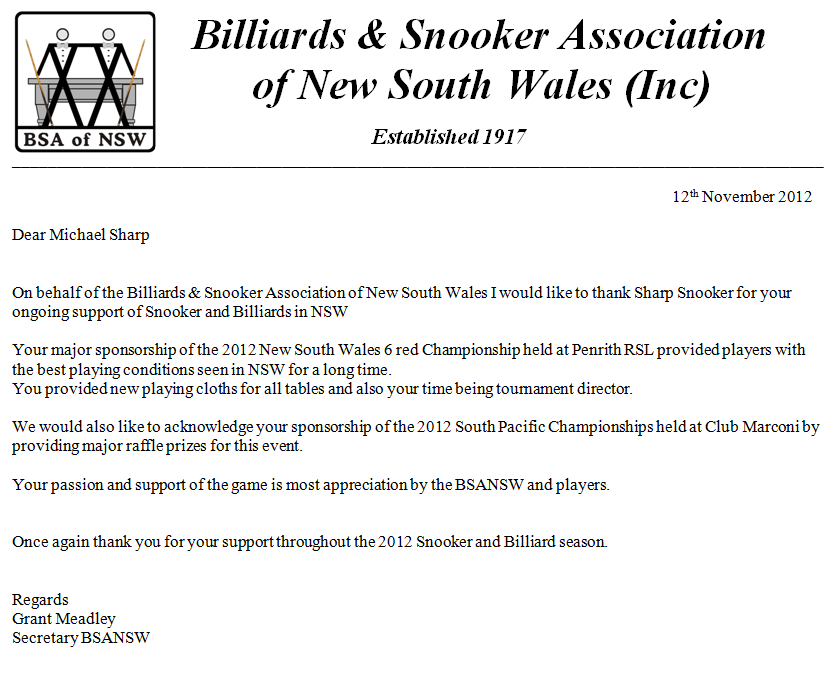 I have had many event wins but this was good to achieve this in 2010.
21st June, 2010
2010 NSW STATE MINOR
SNOOKER CHAMPIONSHIP
June 19th & 20th
Congratulations Michael Sharp: 2010 NSW Minor Snooker Champion.Michael beat Luke Hough 4-0 in the final last night at Kingsgrove RSL, having a  semi-final win over Andrew Samarjia 3-2, and Newcastle's Rob Elsley 3-2 in the quarter final.
The tournament highest break (79) was achieved by a new player to the NSW scene, Sebastian Zhang. I think everyone would agree that Sebastian's performance throughout the event was a cut above the average – as was Patrick Leung's (semi-finalist), Andrew Samarjia's (semi-finalist) and, of course, the runner-up Luke Hough, who played his usual aggressive game, making some great memorable long pots.
Well done too all the other players making it through to the quarters : Sebastian (above), Ron Tulloch, Rob Elsley and Ali Ganji.
For the benefit of those players not familiar with the history of this event, it was initiated in 1947 as a major Snooker Championship open only to players who have not yet won a Championship in NSW or Australia. A player can only win it once and it has been won by some of Australia's most outstanding players:
| | | |
| --- | --- | --- |
| 1948 | Eddie   Charlton | Australian   Professional Snooker Champion for many years, Runner up World Professional   Champion – 1968, 1973, 1975 |
| 1951 | Warren   Simpson | Australian   Snooker Champion – 1953, 1954, 1957, Runner up World Professional Champion –   1971 |
| 1954 | Frank   Harris | Australian   Snooker Champion – 1958, 1963 |
| 1959 | Geoff   Miller | Australian   Snooker Champion – 1986 |
| 1963 | Rex King | Australian   Snooker Runner-Up – 1967 |
| 1974 | Warren King | Australian   Snooker Champion – 1980, 1981 – played the professional circuit for many   years |
| 1979 | Gary   Lakenby | Australian   Snooker Champion – 1983 |
| 1982 | Wally   Potaznyk (Paul Asher) | played the   professional circuit for many years |
| 1983 | Terry   Emmett | Australian   Masters Snooker Runner-Up – 2009 |
| 1987 | Roger   Farebrother | NSW Snooker   Champion – 1992, 2006 |
| 1990 | Joe Minic | Australian   Billairds Champion – 1998,2002, Oceania Billiards Champion 2010 |
| 1991 | Shawn Budd | Australian   Snooker Champion – 1999, 2004, 2009 |
| 1997 | Paul Balzer | NSW Snooker   Champion – 2009 |
| 2001 | Tyson   Crinis | Australian   Under 21 Snooker Champion, 2009 Winner South Pacific Pro Am |
| 2004 | Vinnie   Calabrese | NSW Snooker   Champion – 2008 |
| | | |
These are just some of the winners with records at hand – others that went on to play and achieve for many years include Don Spence (famous Illawarra player), Gary Mares, Ray Launder, Sam Frangie, Mick Girdler, Darren Martin (top 4 Illawarra player), Danny Love, Daniel Giminez; more recently and still regularly playing in major events: Chris Calabrese, Stuart Duncan, Frank Karaberas, Alex Render (ranked 16 in Australia), Shannon Dixon, Michael Lupton, Hassan Kerde (ranked 22 in Australia) and Dallas Hershall.
It is a historically important event carrying some significance. We had 47 runners, however counting players who contacted us late the number would have been well over 50.
A good weekend was had by all players and spectators. Thanks go to Kingsgrove RSL for their generous sponsorship and Ramsgate RSL for allowing us to use their tables for the excess games on Saturday. Special thanks to Bill Hart for managing the event and our referees: Stuart Tait, Richard James, Alex Anson, Steve Brenan and Bill Springett.
Sincerely yours
Ron Baikie
Secretary/Treasurer,
Billiards & Snooker Association of NSW Inc