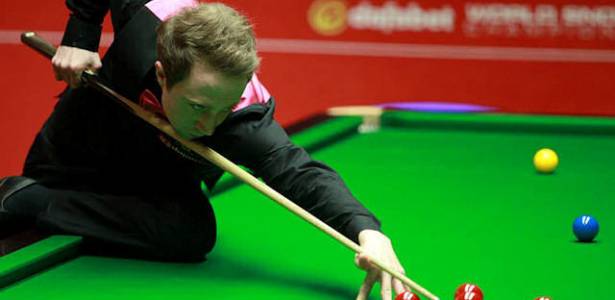 On another remarkable night of drama in Sheffield, two matches went to a deciding frame for a second consecutive evening. Mark Selby edged out Michael White 10-9, but it was Gloucester's 24-year-old Wasley who proved the star of the show as he knocked out one of the tournament favourites.
China's Ding is the player of the season so far having won a record-equalling five ranking titles, but his dream of finishing the campaign by capturing his first world title failed to survive beyond the first hurdle. Wasley, who won four matches to qualify for the Crucible, produced one of the best debut performances ever seen at the venue, characterised by fearless potting and calmness under pressure.
It ranks alongside first round shocks such as Tony Knowles beating Steve Davis in 1982, David Gray knocking out Ronnie O'Sullivan in 2000 and Stuart Bingham ousting Stephen Hendry in 2000.
World number 73 Wasley, playing his second season on the main tour having come through Q School in 2012, has never previously been beyond the last 32 of a ranking event. But he played superb snooker to win four matches in the qualifiers at Pond's Forge, culminating in a 10-9 final round defeat of Robert Milkins which was settled on a respotted black in the last frame. Now Wasley can look forward to a match against Mark Davis or Dominic Dale on the biggest stage of all.
Ding led 6-3 overnight and was on the brink of victory at 9-8 this afternoon when the match was pulled off. Both players were forced to wait four hours before returning to the arena. Wasley quickly grasped the initiative with a brilliant break of 103 to force the decider.
The last frame took 40 minutes and both players had chances. Ding led 53-46 when he failed to dislodge the last red from a side cushion. That led to a brief safety exchange, which ended when Wasley fluked the red to a centre pocket, allowing him to clear to the blue to go 15 points ahead. Still it looked as if there could be another twist as Ding laid three tough snookers on the pink, but each time Wasley was equal to the test, and he finally potted the pink to bring the Crucible crowd to its feet.
"I feel great, I managed to hold my nerve in the end," said Wasley. "I was really nervous but I managed to put that to the back of my mind, I knew I had a match to win and it was in my hands. I'm just glad I held it together.
"Coming out playing one of the favourites of the tournament and someone who's had such a great season and dominated, I was really pleased to be 9-9 and in with a chance to win. I wouldn't be playing the sport if I didn't think I could beat anybody and I felt like I adapted to the Crucible straight away – I could just get down to business and on to the match.
"It will take a good night's sleep to get over it. The crowd were great, they really brought me along and it's great playing in front of them performing – I just want to do it all again tomorrow.
"Throughout qualifying I thought I played really solid, I think I upped my level yesterday and not just today. Coming into the session 6-3 down I knew what I had to do to try and win it. I knew Ding was coming into this with a lot of pressure being one of the favourites, and I just had to try and capitalise on that which I did.
"It's been amazing, you only dream of playing in places like this and it's taken a lot of hard work and support from everybody. It's all coming together now. I've got a big taste for it."
Ding said: "I had many chances but I didn't take them. Sometimes the cushions bounced and took me out of position, which kills me and my game and costs me the frame.
"I should have won more frames but he played brilliantly. I feel like playing him was like playing Judd Trump in 2011, great potting and great break-building. He's very good under pressure – a good player.
"I was a bit surprised he played so well. In the first session he didn't play like that in the last few frames. He made a big break to come back to 9-9. I had some bad luck in the last frame but I tried the best I could.
"Nearly every time I win a tournament, the next one I lose in the first round. Maybe I just win too much!"