RELAXED TAYLOR SET FOR WHITLOCK CLASH AS DUTCH PAIR PREPARE FOR BIC BATTLE
PHIL TAYLOR is looking to turn on the style against Simon Whitlock as the McCoy's Premier League Darts visits the BIC in Bournemouth on Thursday, as Dutch rivals Raymond van Barneveld and Michael van Gerwen prepare to meet on the South Coast.
Reigning Premier League champion Taylor followed up his opening-week draw with van Gerwen by defeating Adrian Lewis 7-3 in Aberdeen to remain unbeaten heading to Bournemouth.
Taylor plays Whitlock on Thursday in a repeat of last season's Premier League final, and feels that getting three points early on – putting him clear of bottom two Lewis and Wes Newton – has been important.
The World Champion believes that his three-point gap over the relegation positions will ease any pressure and allow him to hit top gear when he meets the Australian on Thursday.
"There's no rush this season and I just want to keep in the top six, so every point's crucial," said Taylor. "Nobody's wanting to lose in the first few weeks, and even to be on three points at the moment is massive – ask Wes Newton and Adrian Lewis!
"One point is massive, because you've got to go out and earn even one point every week. There's no mugs in this Premier League and it's tough, but it's enjoyable.
"I can relax a little bit because I'm not under as much pressure, and once I relax then I'll play properly."
Whitlock was the victim of Taylor's Premier League record 117.35 average when they met in Exeter last season and also lost out to his rival in the eventual final.
The Australian has picked up one win from his opening two games this season, but is confident he can bounce back from last week's defeat to Gary Anderson in Aberdeen when he meets the world number one.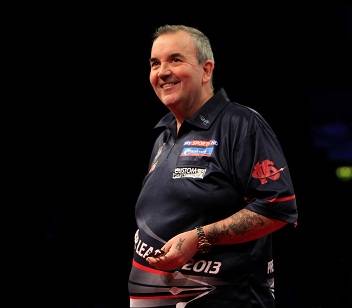 "I'm feeling confident about my game at the moment," said Whitlock. "I'm finishing well and if I can improve my scoring power slightly, I'm sure the wins will come.
"Last week's defeat's behind me now and I'm looking forward to Bournemouth. It's always exciting when you play Phil – he provides a massive challenge for every player and you know what you have to do; score consistently and take your chances when they come along."
The third week of the season also sees Dutch rivals Raymond van Barneveld and Michael van Gerwen put their unbeaten starts on the line at the BIC.
While van Gerwen has drawn both of his games so far, Van Barneveld currently sits at the top of the league table as the only player to have picked up two victories, having hit ton-plus averages in defeats of Anderson and Newton so far.
"It's important to make a good start because after nine weeks there is a cut-off and the bottom two are relegated," said van Barneveld. "You don't want to be one of those players and you have to play well and win as many games as you can.
"Then the target is the Play-Offs, which is really important for me after missing them last year. But I'm not worried about that yet – I see every game as a final.
"This week I've got Michael van Gerwen and, behind Phil Taylor, he's the player in the best form and he was in the World Championship final, so there's a lot of pressure.
"He's a fellow countryman so this week we're going to see who is the best Dutchman at the moment. It's exciting."
Van Gerwen has soared up to fourth in the world rankings over the past year, winning the World Grand Prix, reaching the World Championship and Grand Slam of Darts finals – losing to van Barneveld in the latter – and hitting two televised nine-darters.
photo from "Lawrence Lustig/PDC"
His older rival has watched the 23-year-old since he emerged as a teenage prodigy almost a decade ago, and he added: "What we saw of Michael in the last ten years is unreal.
"I remember he was a youth player in Finland and he won the youth event, and then took part in the men's singles event and won that too, and he did it in Norway.
"He is exceptional, a great player and he could win many World Championship titles from now. He could be one of the best players ever."
Scotland's Robert Thornton is also unbeaten following two matches in his debut season, having defeated Andy Hamilton in Belfast before drawing with van Gerwen last weekend.
The UK Open champion faces another newcomer, winless Wes Newton, in Bournemouth and has set his sights on claiming at least one more point from their meeting.
"Wes' confidence might have taken a bit of a knock [with two defeats] but we've had some cracking games before, and I don't think it will be any different in Bournemouth," said Thornton.
"I'll be targeting two points but I'll be concentrating on getting to six legs first to guarantee myself at least one point. Anything after that's a bonus."
2011 champion Gary Anderson plays Andy Hamilton in another Bournemouth clash, with both players having enjoyed their first wins of the season last Thursday.
"Getting the two points last week has got me into the league and I can go on from here now," said Hamilton. "I didn't want to go into the third week with no points, as you can start trying too hard.
"Gary will give me chances, and if I can finish like I did last week then there's no reason why I can't beat him. I'm confident and I've got a good record against him on TV."
Anderson edged out Whitlock 7-5 last week, but endured some nervous moments as he missed 21 darts at a double during the contest – and he admits that he has to tighten up on his finishing to see off Hamilton.
"For the past year and a half, Andy's been as steady as a rock and he's a hard player to beat," said Anderson. "I think my scoring will be handy, but in the games I've played against him before, his finishing has been superb.
"If you make the odd mistake on a double, Andy's likely to take out a big finish against you if you give him a chance. His strong point's his finishing, so I've got to try not to give him chances!"
The night's other fixture sees two-time World Champion Adrian Lewis, who has lost both games so far this season, meet 2009 Premier League champion James Wade in front of a sell-out crowd at the BIC.
The McCoy's Premier League Darts will be screened live on Sky Sports 1HD from 7pm, and screened worldwide through RTL7 in the Netherlands, Sport1 in Germany, OSN across the Middle East, Fox Sports in Australia and through www.LIVEPDC.TV.
McCoy's Premier League Darts
Week Three
February 21 – BIC, Bournemouth
James Wade v Adrian Lewis
Robert Thornton v Wes Newton
Simon Whitlock v Phil Taylor
Michael van Gerwen v Raymond van Barneveld
Andy Hamilton v Gary Anderson
All games the best of 12 legs.
Coral Match Odds – Week Three
James Wade v Adrian Lewis
13/8 – James Wade
7/2 – Draw
11/10 – Adrian Lewis
Robert Thornton v Wes Newton
EVS – Robert Thornton
7/2 – Draw
9/5 – Wes Newton
Simon Whitlock v Phil Taylor
9/2 – Simon Whitlock
9/2 – Draw
2/5 – Phil Taylor
Michael van Gerwen v Raymond van Barneveld
13/10 – Michael van Gerwen
10/3 – Draw
7/5 – Raymond van Barneveld
Andy Hamilton v Gary Anderson
13/8 – Andy Hamilton
7/2 – Draw
11/10 – Gary Anderson
Coral are the official betting partner of the McCoy's Premier League Darts. All odds correct at 12pm February 20.