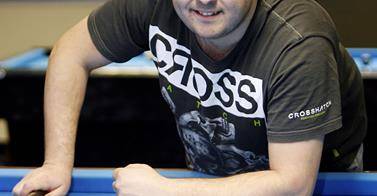 Keighley's Chris Melling is hoping to make it third time lucky as a snooker player after earning a two-year tour card on the world circuit.
The 35-year-old is best known in pool, having been a former eight-ball world champion, world number three at nine-ball and been a key member of Europe's Mosconi Cup team.
But Melling clinched one of the four spots up for grabs in the first Qualifying School event at Gloucester and is now bidding to succeed on the green baize.
He previously played professional snooker in 2001-02 and 2003-04 but struggled to make an impact.
"I bought a cue and on the third day of practice I made a 147. So I decided to give Q School a try and now I'm on the tour for two years."
Melling also revealed that tips from a former world Champion had paid off.
He said: "I play at the Cue Gardens club in Bradford and Joe Johnson has been a big help to me, giving me free practice and a lot of advice about safety.
"I have never had anyone to really push me before but he has given me a lot of confidence and if I don't complete the routines he gives me, he lets me know about it."
Having reached the fifth round, Melling won his place in the semi-finals – and therefore securing his card – by beating Duane Jones 4-3 in the last eight with breaks of 86, 60 and 75.
World Snooker chairman Barry Hearn said: "The opportunities available for players to get on to the professional tour, climb the rankings quickly and compete for £8 million in prize money in tournaments all around the world have never been better.
"We have introduced new formats for ranking events this year which means all players starting in the same round, whether ranked first or 128th.
"And next season we are bringing in a money list to replace the ranking list, which again will help gifted players climb the ladder if they go deep in tournaments."